Mentoring: 'WOOFing' with the Choir
...Setting Up Successful Organic Farming Internships
(originally published in NOFA Massachusetts News, Feb-March, 2005)
By Daniel Botkin, Laughing Dog Farm, Gill, Mass.
For decades, students, youth and others have taken to volunteering on far-flung, organic farms and homesteads, largely in Europe, the Americas, Australia and New Zealand. "WOOFing", as it has been coined, has helped regional farmers with timely infusions of agreeable, low-cost labor, as well as serving as a rich conduit of agro-apprenticeships and eco-tourism. Diverse opportunities are available on farms, ranches, CSA's, eco-villages -- some as a simple labor exchange, others with a more specific mentoring focus. But, one needn't be a big or commercial operation (or even a farm at all) to offer a meaningful "organic internship". The web reveals to us a large pool of footloose, ecologically-minded folks interested in working for room, board and all manner of valuable learning.
Laughing Dog Farm is a small acreage, startup market garden and CSA comprised of two+ acres raised beds, fruit trees, berries, goats and a greenhouse, managed almost entirely by traditional, labor-intensive methods. For this and other reasons, live-in seasonal interns are a good fit here and for five summers, we've been fortunate to find a steady flow. It may be worth recruiting locally; however, in our experience, the reservoir of serious minded, organic volunteers on the web is too ample, too steady to ignore.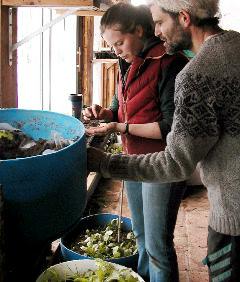 For me there are two keys in setting up successful farming internships whether from the web or otherwise: clear expectations and effective screening. Having interns in our home and lives for weeks or months is a rather intimate arrangement, so integrity and personal chemistry are absolutely critical. However, we hardly have the time to conduct an extensive application and interview process for every inquiry we receive. We also have a young child, which makes me doubly discerning about taking on volunteers..
We post a detailed description of our farm and internship early in the season on several of the relevant websites listed below. We try to differentiate our scene from scores of others with keywords which might spark connection or interest: permaculture, mentoring, CSA, community, goat cheese, food politics, kid programs, hacky sack... We also spell out our expectations regarding an intern's commitment, schedule, housing, meals, housekeeping, etc. We may also want to clarify things like supervision and feedback mechanisms for both parties as well as what kind of social options exist for intern(s), a policy on couples, tobacco/drug/alcohol use, and, of course, dogs.
Because we receive dozens of inquiries each season, I use email shamelessly for the initial "screening" process, sending out a short, friendly welcome, pointing them to our website and inviting them to continue the dialogue. Those who were just surfing or simply liked our name can be filed painlessly away under "interns". If someone connects again and sounds promising, I'll swap a few emails to see, objectively, if the inquiry has potential. They may be smart, cool and hardworking, but there's little point following it up if they won't live with meat eaters or aren't available until September. I call back obviously motivated, promising prospects within a day or two. The "real time" quality of the phone allows a better sense of an applicant's energy, personality and social skills, all better indicators of success here than say, for instance, strength, endurance or farm experience. All internships at LDF begin in the form of an extended visit. The act of traveling to the farm, in most cases, "selects out" those candidates truly ready to work, learn and participate with us from those merely curious or lonely.
Any internship, even between stellar folk with the best intentions, is only going to succeed if there's a compelling reason for the intern to stay on and work hard. Sometimes, not even the learning mission, the family atmosphere, nor the great food and company can sustain an intern's spark. Interns are therefore encouraged to stay focused and in charge of their own learning objectives. Past interns here have helped run a kids camp, worked at a nearby pre-school, honed latent chef skills, checked out nearby farms, taken part-time jobs and gone skiing to Vermont, in order to complement their farm life.
We ask our interns for 20+ hours of farm-related labor per week, aiming for a graceful balance between sweaty, serious industry and a rippin' good time. I'm hardly the directive type and in the past I've perhaps erred being too lax, allowing partying interns to rise late, set their own hours and play hacky sack after lunch -- so long as "work got done". This may have to change this year =). Curiously, several grower friends I know who've tried using interns in the past, no longer do so. They say the variability and complication of finding, motivating and managing volunteers makes the whole affair too frustrating...
In many ways, it is more work for us, hosting, supervising, feeding and teaching the extra help. For this reason, I probably won't take four interns again this year! But having volunteer worker/learners at Laughing Dog compels me to be more organized and focused with all our farm operations as well as more mirthful in my own daily labor -- all indisputably good!
And there is a unique buzz of camaraderie, industry and celebration which settles over the farm when four or six or eight passionate soil builders and food growing fools convene out there in the fields, under bizarre and changing weather, perhaps transplanting or weeding, harvesting or mulching, perhaps at dawn when the whole world is asleep… What greater mission than collaborating growing precious food and taking care of our earth? After dark, there's always another amazing, homegrown feast: grilled veggies, a huge, fresh salad, tons of goat cheese and heirloom tomatoes. And the interns and neighbors all stay up late, strumming guitars, digesting it all…
Here are some useful links related to farm internships and WOOFing:
http://www.attrainternships.ncat.org/
http://www.wwoofusa.org/directory.html
http://www.organicvolunteers.com/
http://www.umass.edu/umext/jgerber/FarmInternships.htm
http://www.planetfriendly.net/wwoof.html