Loretta, One Girl's Best Friend
You can't always predict when and from where your true friends will come...
This "dog shrine" page is dedicated to Loretta, a smart, spritely and independent border collie/Australian sheperd mix, who graced the planet for nearly 19 years, befriended the small town of Wendell, Massachusetts and brought particular joy to one unique woodswoman, L. Divya Shinn.
A nice man named Al Chapman, from Buckland gave Loretta (age five) to Tony Diemand in 1990. He knew Loretta was a smart and excellent dog, but due to circumstances at home, could no longer keep her. Without a lot of forethought, Tony, a farrier by trade, brought Loretta home to his small cabin in the woods, which he shared with his partner, Divya. From a farming family, Tony knew animals large and small, like the back of his strong, gnarly hands. But they had no pets and Divya, a working nurse, wasn't particularly drawn to owning pets. But somehow animals always seemed particularly comfortable with and drawn to her. Perhaps it's her generous and loving spirit they sense. Animals, after all, are the original sentient beings. There'd once been a dog named "Willi" and a cat named "Ringo"... and others, too, along the way.
Upon arriving home from work one day, Divya found this beautiful and energetic dog awaiting her there at her door. "Whose dog is this", she asked Tony, surprised to see such a lively, young beauty, barking greetings to her, out in the middle of the Wendell woods. "Why she's ours", Tony replied, petting her lavishly, having himself, only hours before, impulsively deciding to take the animal.
The dog was really hard not to adore, so they kept her for a few days to see. Just as they began getting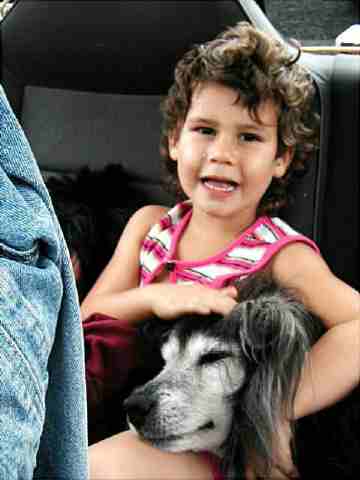 attached to the little firecracker, she suddenly took off and disappeared one fine day. They looked everywhere, but with no success. Heartbroken, they posted one sign at the Wendell Country Store, the social hub of all things Wendell saying, "Lost Dog - Responds to 'Loretta'".
Now, those of you who understand the mind of the working dog (and border collies and Aussies in particular!!!) will not be surprised to hear that restless, young Loretta had decided to go walkabout all around central Franklin County! Somehow, she ended her jaunt at Hamilton Orchards way over on Rte 202 in New Salem. Old man Hamilton knew a good dog when he saw one and immediately decided to keep her. But, a few days later, his son, Andrew, of Wendell thought he recognized the animal as Tony and Divya's lost "Loretta" and told his dad so... "Couldn't be!", the dad replied, having already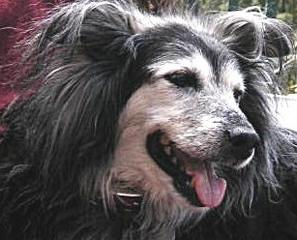 set his heart upon and already renamed the feisty farm dog. So they did a blind test. From a distance, Andy suddenly called out, "Loretta!" whereupon she immediately turned and came a running to her name! Well, adopting a stray is one thing, but Loretta already had a home, and so Hamilton sent her back to Wendell.
Divya and Loretta spent nearly 14 years together and they became a bonded pair, like no others. In fact, Divya long ago quit calling her "my dog" and instead said that she was "Loretta's person." They became known all over the Valley as an inseperable pair. Anywhere Divya was, Loretta was sure to be nearby, whether at Hope Community Church, at On Wings of Song rehearsal, the Wendell Country Store or African dance class on the common...
My favorite Loretta story occured at the Wendell Full Moon Coffeehouse. Started originally as a fundraiser
to fight the state's plan to cut a highway through the forrest of Wendell, there's been a classic Full Moon Coffee House there for 25 years. Of course there's always been an official "no dog" policy at the coffee house. However, Loretta liked to come along, hang outside on the common, and occasionally sneek in to see if "her person", Divya was ready to go home, yet. Divya took periodic flack from the coffeehouse organizers who, despite loving Loretta, needed to abide by house rules and kick Loretta out.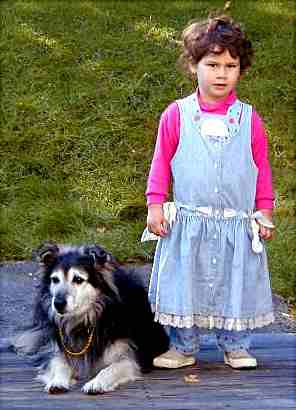 One night, while virtuoso classical cellist Matt Heimovitz was mesmerizing the local crowd with his ethereal strokes, Loretta wandered into the hall, unbeknownst to all... that is, all but Divya, who sat horrified and still. But the town hall was uncommonly transfixed in rapt attention, and there was nothing she could do now from her seat to stop destiny. Drawn to the haunting cello notes, the now older Loretta wandered unapologetically up and onto the stage and stared at the muse making his otherworldly music - and cocked her head, as if trying to suss out its deeper meaning or source. After an incredibly long coda, Heimovitz, sensing her presence, opened the corner of his eye to see Loretta there, taking in his performance so attentively. A wry grin crept to his mouth and hung there for a moment. Without interuption, he proceeded with the piece, playing with great emotion and skill, everyone agreed, right to the listening dog.
More early-life Loretta stories to come, including:
Loretta rides the trails of Wendell....
Loretta chases a bear from the Wendell cabin....
Loretta (nearly) thwarts GOP election-stealing dirty tricks in '00 and '04....
Loretta keeps spiritual vigil over Hope Community Church congregation...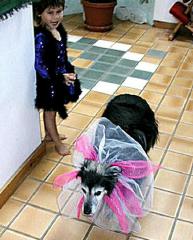 Later in life, Loretta came with Divya to live with Daniel Dog on his family farm in Gill, at the site of the old Renaissance Commune. By now a semi-retired senior, Loretta spent her last years keeping watch over the farm, the goats, the interns and the family, while serving as loyal mascot and keeper of Divya, as well as pal to Sniffelous, the cat... and ofcourse, Leylee Rose, the lttle girl.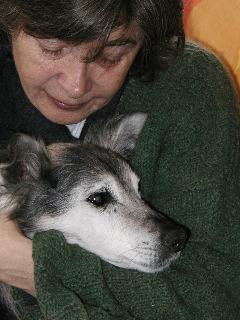 Every kid should have a loving, safe and accomodating old dog to grow up with. Border collies aren't known as particularly child friendly, yet she was the exception. Sweet Loretta
tolerated a lot and only gave back love and undying loyalty. There'll never be another Loretta!
At the end of her long and good life, Loretta showed miraculous bodily fortitude, hanging on, presumably to take care of Divya, through most of her 19th year, long after the call of the wild might have called her home. Even when she'd shrunk to a skeleton and stopped eating and drinking, her body kept itself alive for days, as if from a searing sense of loyalty. It was the woman who eventually had to let her go and ease her transition, with the aid of Dr. Katz of Amherst. She died on March 16th, 2004. Loretta's remains are buried at the front of the main garden here, where she's in perfect position to watch over and protect all that grows, season by season.
We love you Loretta!!!!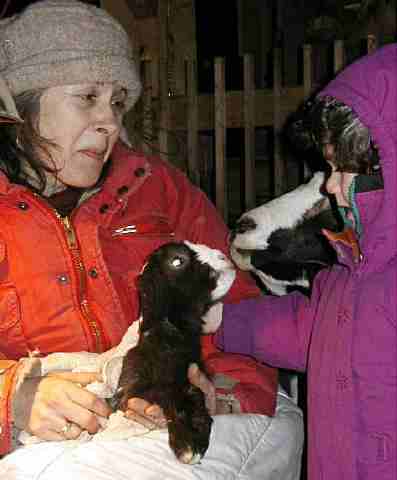 Posted: to Dog and Other Shrines on Tue, Feb 12, 2008
Updated: Wed, Apr 1, 2015