2007 in Review
Dear Foody Friends, Fellow Farmers and Laughing Dog Boosters...
We invite you to join us for a few moments as we review some of the highlights of 2007, an incredibly rich, productive and full year here on the farm! We offer you a few words and images -- just a sampling of our busy lives, with sincere wishes for PEACE ...in the New Year and beyond.
Fixing Michael's House...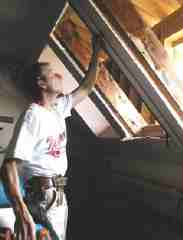 In early spring of 2007 we made the somewhat impulsive, yet inevitable decision to launch into badly needed repairs and renovations of the entire south side of our leaky, circa-1980 commune house -- all while continuing to run a small organic farm and 14-family CSA over an intensive, six-month, no-breaks season. That bold (probably crazy) decision meant that we've lived our typical, busy, summer farmin' lives... in a construction site, with all the displacement, dust and space challenges that entails.
But the timely availability of our long-time friend and talented builder Ed Hogan provided us with an opening to finally dig in and rectify some serious design flaws and leaks which have plagued this house from the start. So in May, we took a very deep breath and Ed began ripping open the south face of the house.
The commune never actually finished or inhabited this behemoth "dormitory". But considering their all-for-one and-one-for-all mantra and legendary excursions into domestic co-integration and collaboration, how karmic it becomes now, twenty years hence, for us, Divya, Leylee and I, such latter day flower children, to still be here, in this house, fixing, smudging, integrating and reworking the blessed space. Thankfully, we and Ed approached this project with great theatricality and fun, almost as if it were our very own reality TV show the likes of: "This Ol' (Hippie) House...". It was fortuitous that we had a good friend who just happened to be such a capable, self-employed builder to help us through this ordeal. It surely wouldn't have been as much fun with an anonymous contractor.
Let the Sunshine In...
The first step in a long process was to replace the lower roof and create a vertical, glazed face on our south side ground floor (kitchen, living room). Designed very early in the solar movement, this "slanted glazing" house was attempting to "capture" all that nice, winter sun. However, as we and many others have since learned, the winter sun is capturable just fine with vertical glass. So we ripped out all the slanted glazing in order to finally address the persistent problems of leakage, potential breakage and also their vulnerability to blazing summer rays.
Why Bother???
Fixing Fantuzzi, as we once, fondly called this grandiose, hippie house, now threatens to be a lifetime's vocation -- but one well worth attending to, one must hope and assume -- because the space, opportunity (and karma) held here are so rich! This is what we keep telling ourselves. We don't know ultimately why the universe "chose us" to steward this historic, hilltop home and couple of fertile acres, but we get regular clues.
I'm the type of guy who's always had a mission, whether it was bicycling across America, hacking for peace in Guatemala and Nicaragua, teaching teens about AIDS, or growing serious vegetables in a hoophouse. I guess I function best that way, as a missionary. I've always told myself, even if deep down, you may believe in your deepest heart and mind that the planet is beyond hope, and that humanity is doomed, live your life otherwise by force of choice and free will.... Live as if reality could be changed by such belief alone. In other words, since we're already here, incarnated as humans anyway, why not just decide to believe in something, anything, really, anything that matters -- plants, animals, sports, children, seeds -- nomatter how small or inconsequential appearing -- and to throw oneself completely into its vocation. What we often find is that belief, remarkably, manifests layers of reality around itself. Isn't this part of what the hippies were trying to teach us, anyway? And besides, what else do we have to do with our lives?
Our Mission: Practicing and Teaching Sustainable Food Farming
At Laughing Dog Farm we're intensively practicing growing food under changing and variable climate and teaching what we've learned to some of the many who are also filled with the urge to grow food...
We see knowledge like seeds. And seeds locked away unused in some nameless drawer benefit no one...
We also know that we're building infrastructure and holding down the fort for folks that haven't as yet arrived. I mean that literally -- as in future housemates, comrades, co-organic farmers, co-owners of LDF, etc, as well as figuratively, as in all the multitudes who are still locked into the industrial food system, ignorant of what they eat and how unsustainable it really is..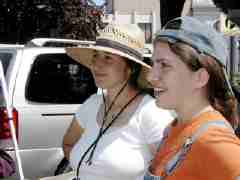 This year we've tried to practice staying open to the Big Picture and being patient. We've learned to better utilize small batch, creative recycling and peck-away technologies, as well as when and how to appropriately use financial resources to address infrastructure problems. Our mission here continues to be finding the windows of opportunity where hand labor still makes sense, and where the economy of scale tips in our favor, be it with goats, seeds, "rare" crops, or interns. Come to find out these small farm and sustainable agriculture movements is vibrant and vast. We and others are quietly expanding traditional ideas of what constitutes true value. We are learning and teaching others to see the value of organic farming not only by product and profit, but also through the lens of personal health, environmental footprint, social connectivity and global politics. The benefits, (culinary, health, connectivity, etc) of this lifestyle alone constitute a dramatic added value to the farming enterprise, regardless of the profit or loss realized through the CSA and farmers markets.
At this writing, we are warm, dry and the major structural work on our home is nearing completion with "merely" some siding, finishing, trim, painting and interior furnishing left to go. Whew!
When I think of the living conditions faced by many all over the world today, I can only feel very grateful that we even have had the opportunity to "renovate" and improve our home at all. And so, many huge thanks also go out to our fine, young builder friends Yanu Skiathitis, (carpentry) Ben Sylvia, (carpentry) Roy Gross (carpentry, handyman) and Bill Goldfarb (roofer) who have also contributed immensely to Laughing Dog Farm in 2007.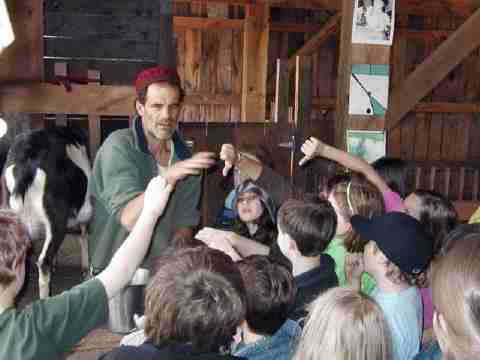 Expanding the Mission...
Its no secret that our mission here at LDF is as much about teaching, mentoring and promoting sustainable backyard production as it is about growing actual food for ourselves and/or retail distribution. The historical confluence in 2007 of key emerging issues such as Peak Oil, global warming, genetic engineering, global pandemics, cancer, obesity, food contamination and toxicity caused by industrial agriculture... has brought the western world to a greater food awareness and readiness for change. Although these problems are gargantuan, requiring comprehensive and systemic attention, there are already niches where any one of us, nomatter our standing or geography, can each begin to act. Micro-intensive, backyard food production is one of these small but highly compelling examples of common citizens reclaiming some control over their destiny (food) while contributing to the greater security of our local community.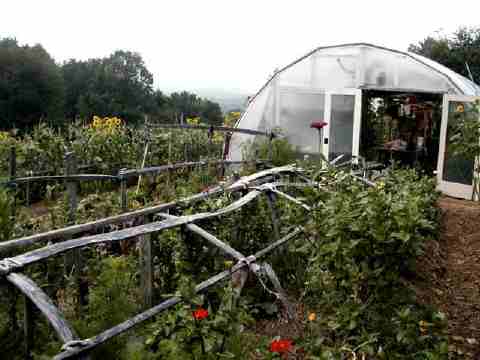 This year, in our own small way, we have continued promoting this vision of the ubiquitous backyard food farmer. The response has been very encouraging with correspondance, inquiries and/or visitation coming in on a weekly basis. This hand farming is not easy work and we are happy to be riding a big wave with lots of inspiring collaborators... The key for us is to find a balance in all that we've undertaken, and with our private lives as well. This includes balance between work and rest; between farm and family. Balance between interns and solitude, and between retail entrepreneurship and saving the planet. Amen to balance!
Farm Mentorship/"WWOOF"ing
Perhaps one of the most direct and powerful ways to teach essential food and farming and living skills remains through one-on-one mentorship through the course of daily/seasonal experience and labor. The virtual WWOOF program whereby willing, (often but not always young) volunteers from all over the world travel seasonally to work on organic farms in exchange for housing, food, learning and experience... has been extraordinarily good for us!
This year's crop of vagabonding agronomists included two astonishing young musician/farmers, Sam from Maine and his English girlfriend, Jess, who tackled the all-important late winter fruit tree pruning and seeding/transplanting trays full of our precious early crops. Recent college graduate Miriam Benowitz stayed for a six weeks and learned everything she could before continuing her journey to Palestine and Israel. High school rowing champion, Rebecca Gould of Connecticut, spent part of July with us learning the basics of organic food gardening and CSA. A hardy, guitar strumming lass, Elly Vaughn, from eastern Massachusetts was with us long enough to plant leeks and brassicas, brew unique berry and fruit wines, kambocha tea, and teach my daughter her first Dylan song on the guitar! The summer scene here was delightfully laid-back, hard-working, yet sweet, friendly and supportive, a lovely, albeit transitory, community.
Super Intern...
This year's Johnny on the Spot fantastic and indispensible intern award goes to... Melissa Bokoff, who somehow selected our farm from a vast, virtual WWOOF directory, came all the way across the continent to join us, and not only helped immensely with the 2007 garden, farm and CSA, but became a beloved part of our family as well. Melissa, who incidentally went to Evergreen College like me, began emailing us during the winter of '06-'07 and kept intermittant yet persistent e-contact while traveling solo across America. Raised on a horse boarding farm in Connecticut, and now identifying more with sustainable food farming, she knew she wanted an intensive, hands-on, basic-training in permaculture-style, food farming. Like many WOOFers we've known, she also was seeking a supportive, family atmosphere. So, I bent my "interns must have an on-site interview" rule and vetted her by phone from Dallas. She showed up brimming with enthusiasm in early June and proceeded to become involved in nearly every aspect of our farm and domestic life. In return she soaked up an intensive, daily primer in this hand farming craft and added a few of her own touches to LDF as well.
Thanks Melissa!
Incredible Growing Conditions in 2007
Agriculturally we've enjoyed a stellar year despite some pesky racoons, periodic deer, as well as a worrisome drought in the middle and end of the season. Melissa and I slept out nightly for a month to protect the ripening corn patches, which allowed us to harvest small batches of incredible (hybrid) corn all summer long. And we grew plentiful heirloom tomatoes, purple and red potatoes and the best winter squash collection I've ever had. The vining squashes and tomatoes in particular enjoyed a robust and blight-free late summer due to the dryness, cranking out prolific and perfect fruits through October.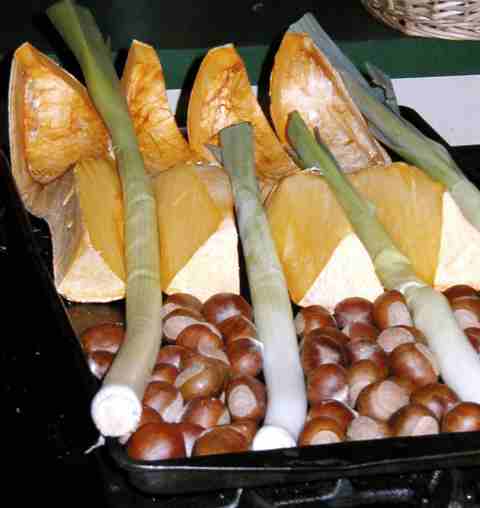 We also had a nice 2007 harvest of peas, beans, leeks, chestnuts, garlic and lettuce. Thanks in large part to the ever-improving hoophouse habitat, our 2007 harvest period started early, maintained well and lingered long. Why just last night, Divya picked a bowl of still-delicious kale and chard leaves for the wok. Yummy!!!
A Little Skill, a Lotta Work... and Mucha Suerte....
We must assume that the successful harvests of 2007 owe themselves partly to all the early preparation, seeding and transplant work in the spring hoophouse (Sam and Jess)... but also to a few, very timely rains which fell in August and September when it had become most dire -- when the long, dry spells had started to become a sustained drought. We cannot expect we'll always be so hydrologically lucky. Nor can we commit on an ongoing basis to the kind of intensive hand watering and aerial irrigation which got us through in '07... Apollo has been harping on this for years, and now, we too are utterly convinced of the need for a comprehensive, large-capacity, rain catchment system here. Our land is topographically set up to irrigate by gravity flow and it is our resolution to begin building such a common sense, low-tech, cistern collection and H2O dispersal system for 2008. Can you help?
At this writing the winter hoophouse is heavily tucked in with several hundred half dormant leeks, beets, kale, lettuce and other assorted, cold-hardy greens. I'm always amazed at the resiliency of these plants to withstand temps down to the single digits inside the hoophouse. They wilt, they wither, they look dead -- but lo and behold, they're not! We'll lightly prune and eat them back through December and January. Then, come the first light of February, they burst back to life and action! You know we'll be hungry for those first, new, ultra sweet leaves!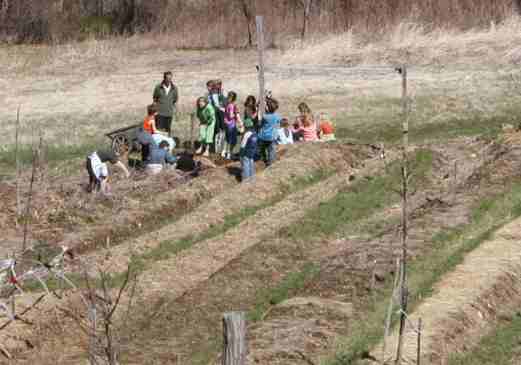 Education Through Visitation
In 2007 we enjoyed a series of educational visits by a variety of individuals and small groups interested in LDF and this style of permaculture gardening. In January I retrofitted the interior of the hoophouse with an elevated boardwalk and various other high trellising apparatus which helped make the hoophouse space more productive and efficient... and also turned it into a more interesting "micro-habitat" for homeschoolers and others to explore, study, work and hang out! Apart from a weekly homeschool seminar in the early spring, the farm also hosted groups from the Greenfield Center School, a dynamic group of eco-cyclist volunteers from Northampton, an organic gardening class from Greenfield Community College, an outdoor education class from Northfield Mt. Hermon school, two winter gardening seminars and a spontaneous hoola hoop social brought together one fine Sunday by our friend, the talented Shenandoah Sluter, the hoola hoop queen of Franklin County.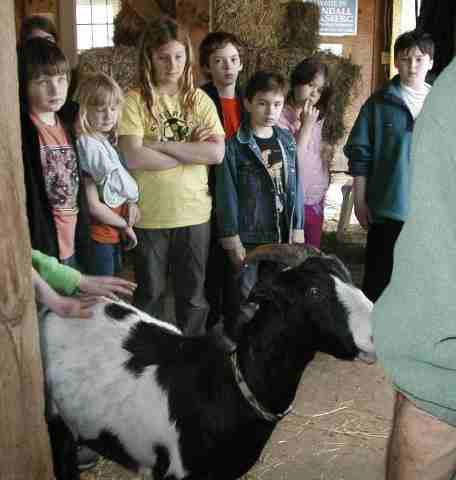 Everybody's a Farmer...
The real epiphany of these 2007 farm visitations was seeing again how willing everyone was/is to participate and get their hands dirty. I think of Eli's dad, Jim who after biking 35 miles in blistering July heat was still gung-ho to haul sod clumps to try patching collapsing hoophouse beds. I think of the Greenfield Community College class my old friend Angel Russek brought and how earnest they were to dig holes, plant peach trees, and ask 100 questions about the commune, about compost, and every other thing related to farming, food and politics. I think of the three grade school groups who came here '07 to plant garlic, harvest beans, transplant tomatoes and count worms. I think of Leylee's class from the Center School, who used their day's adventure planting garlic and harvesting (and cooking) their own lunch as a springboard into an ongoing study of local food systems. ...And of Tea, our dear neighbors' (Chris and Laura) two+ year old, who, with a guilty grin, would sneek into the hoophouse to beg raw broccoli. ...And of this year's 14 happy CSA families and the many fresh meals we provided them over five months. And I think of all the fun we had at the Greenfield Saturday farmers market, where we had (an interactive if not always lucrative) booth most of the summer and into the fall. People everywhere, we're finding out, resonate with this small farming/local food revolution. I'm also thinking of all the others who didn't actually visit or write us, and who may not have eaten a bite of our produce... but who in some indirect or oblique way were fed, inspired, tickled or made happy by our efforts in 2007. I think of my new friend Richard Vincent, a salty farmer type, who, having seen our spread and tasted the products of this intensive, "perma-mulch" growing technique, now gets excited whenever he runs across a barn full of old or spoiled hay... so he can dial us up and offer it to us. What a cast of farmy angels exist out there waiting to be mobilized !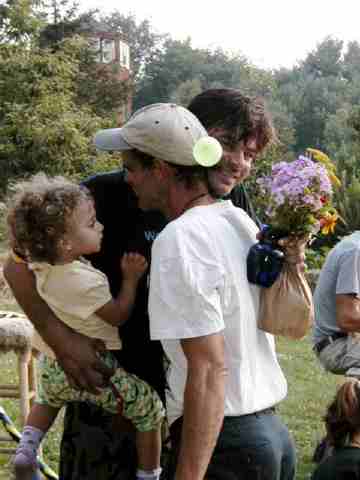 Family Milestones
Oh yeah... I turned 50 this summer! As I've done for several years on my day, I observed silence in the morning and after a typical, full, workday, we gathered with a few folks, watched the sun go down, toasted our collective good fortune and feasted... for a change... :)
Although I'm not a big fan of parties, numerical milestones, or traditional rituals just for their own sake, there seemed to be a timeliness and sweet rythym in having family and a few of my pals together, somewhat extemporaneously ;) to notice the occasion...
Beloved Daughter...
Leylee, our daughter turned 10 in 2007 and has blossomed even further into her vibrant, gregarious, happy and warm self, who is uncanny in her ability to navigate social milieu and make friends across cultures. She is known and loved in both Gill and Montague, as well as the Greenfield Center School, Hope Church and the Greenfield farmers market. She knows farming as well as fashion; tends goats and small kids equally well. She can facilitate a meeting, harvest potatoes or watch Survivor and American Idol with equal comfort. She can sew and make (and sell!) jewelery and she is showing herself to be quite a fearless cook, as well. She has made great strides at school, both in the social arena and academics, and as well at home with piano and songwriting. She's also been vitally involved this year with house, farm and CSA chores. As a special mother-daughter treat, Divya took her to a Labor Day weekend chanting extravaganza at Omega Institute where her vibrant spirit and chanting experience was recognized early on. Before long, Leylee was invited on stage to chant with the performers and ended up capturing the hearts and imagination of all present. That's our Leylee...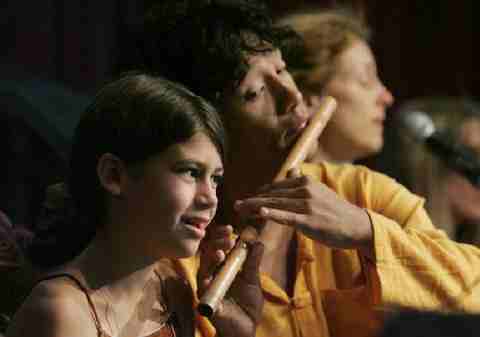 PS. As of this writing Leylee is recovering from a broken right elbow which had to be surgically repaired before Christmas. She should make a complete recovery, just as ski season ends... ;( !
In Praise of Heirloom Squashes...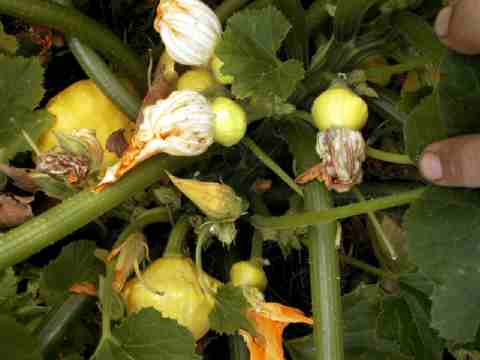 Those of you who know me already know of my passion for heirloom varieties. This year was nothing if not the year of the heirloom squash.
For over ten years now we've been seriously saving seed, with our collection catapulted forward largely by the world-shrinking powers of the internet. You can see that in 2007 our palette was prepped with some of the finest cucurbit DNA from all over the globe.
To save precious garden room we again grew many of our squashes (from our very own transplants) in the fertile tree wells around the young fruit trees, allowing the expanding vines to spill onto the lawn and mulching them heavily, as needed, with spoiled hay.
Early on, Rebecca, Divya and Leylee screened the plants for squash bug egg masses. Finding and destroying many of the early eggs worked to slow down and mitigate the inevitable invasion of this pest and the deadly wilt diseases they bring.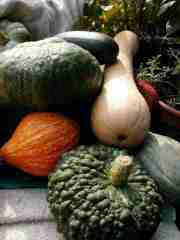 Here you see some of our very favorite 2007 squash varieties. Above left are some lovely overgrown round (redondo) zucchini, which, in their mature state, reveal their geneological connection to the (pepo) pumpkin. On the right you see the tender yellow scallopini (pepo) summer squash which we adored all summer, grilled or wokked in olive oil with garlic. On the left foreground is the legendary Marina di Chioggia, or blessed (warted) sea pumpkin from the coastal region near Venice, Italy. This squash is not only extremely unusual and aesthetically superb, it has some of the sweetest, silkiest, most delicious, orange flesh imaginable, equally fit for pie, soup or gnoshi, bridging continents, cuisines and ethnicities with a flair and earning admiration wherever it is grown. Chioggia is a winner and highly recommended for your growing pleasure.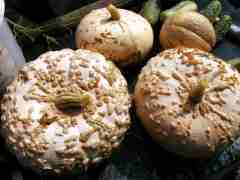 On the right notice the size and length of these elegant, heirloom butternuts -- which retained more mottled, green hues than the traditional, tan Waltham or hybrids, even when ripe. This is a Native American variety called Canada Crookneck, generously gifted to us by Howard Clarke of Greenfield. Having been smitten by the maximas and no longer a big fan of the butternuts (moschata), I was pleasantly surprised by this one's dense, bright orange flesh, sweet, pungeant bouquet, and exceptional sweetness.
Finally, 2007 gave us the galleux d'Esine or pink warted pumkin, an amazing heirloom French variety we've had great fun (and finally success!) growing and showing. The first galleux we opened was incredibly sweet and made a mirthful soup. The second, smaller one was flavorful but less sweet, confirming my belief that frequently culture trumps variety. Still we have high hopes for this old and venerable classic, renowned in heirloom circles. Contact me next spring for seeds or seedlings of these worthy squash varieties. They all show signs of being good keepers. At the date of this writing we are still nursing a stable of rock-solid specimens, our blessed winter fare...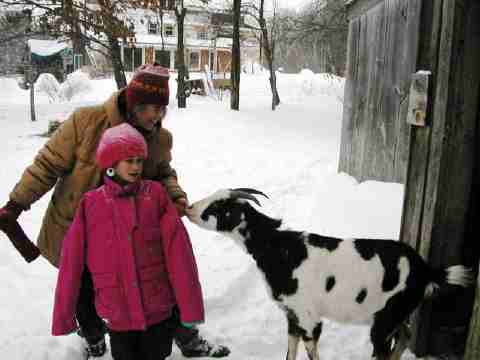 In Appreciation of Family and Home
Now at last the deep winter is upon us. And it looks to be a harsh one calling upon all our reserves of love and humor!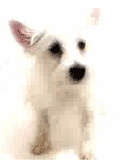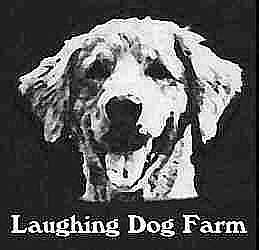 Here I wish to say thank you to my loving family, my wife, my daughter... and indeed, all our kin, for all the joy and support and comradeship given this year, and always. May all of us grow wiser and more powerful in our gardening, farming and our loving this coming year, 2008.
Lovin' You with Food,
Danny Botkin
Posted: to General News on Tue, Jan 1, 2008
Updated: Wed, Mar 18, 2015